Welcome To Our Website
Hunterdon Wood Creations designs and builds unique custom wooden items for your home or office. Our wooden pieces represent the highest standards of craftsmanship and innovation. Each item is individually customized to fit your style — you decide on type of wood, finish and design. We use only the finest products and techniques to create our one-of-a-kind pieces.
We also specialize in top-of-the-line design of commission pieces. Each item we create is detailed to your exact taste and specifications. We do not have products on our shelves waiting to be shipped — each piece is carefully created one at a time to ensure excellence.
At Hunterdon Wood Creations, creating custom wood furnishings is not just our business — it's our passion.
As the sole proprietor of Hunterdon Wood Creations, I was drawn to woodworking at a very young age. I can still remember being enthralled during my first shop class and this helped me develop a keen reverence for all types of hand made items. My first creation was a magazine rack that I proudly presented to my parents. I still have that same level of pride for each piece that I individually craft at Hunterdon Wood Creations.
My woodworking style encompasses influences from many forms including Mission, Green & Green and Shaker. This inspiration allows me to incorporate their unique aspects into the items I create.
Please contact us for price quotes or additional product information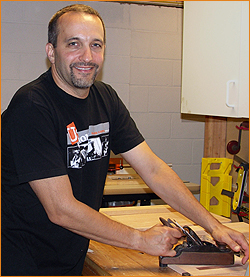 "Andy did a great job on my project"
"Looks great thanks Andy!"
Check Out My Tree House Project!